Mac Mail Setup
New Mac Mail Account setup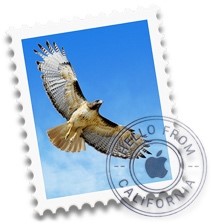 1.Click on the "MacMail" icon, located on your menu icons dock.
2. From there, focus your cusor on the upper left hand corner, looking for the "Mail' option. Click on "Mail" and choose "Preferences" in the list.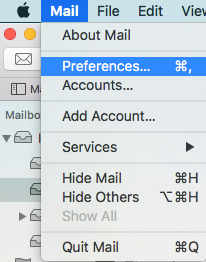 3.From there, click on 'Accounts Tab', and scroll down to where you see a 'Plus' symbol on the left-hand side.

4. A list of domain names will pop up. Please choose "Other" at the bottom of the list and hit "Continue"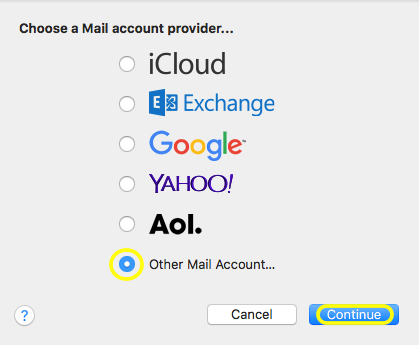 5. From there, you will want to enter your email credentials (email address and email password). Click on Sign in to continue.
User Tip: If you are unsure of your email password, open a web browser and go to http://webmail.montanasky.net and try your email credentials there. If they do not work, please go to MyAccount Center and reset your email password. Or you can call in to your local office to receive a temporary password and a walk through from one of our technicians.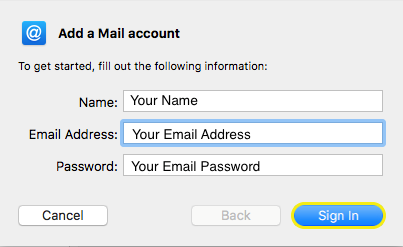 6. Here, you will now enter our incoming and outgoing server credentials. We would also like you to choose 'IMAP' as your account type. Select sign in after you have entered correct credentials. Then, please click on "Sign In"
Email Mail Servers MUST be:
Incoming: mail.montanasky.net
Outgoing: mail.montanasky.net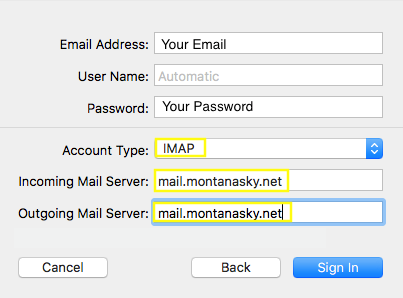 7. Next, you will choose which apps you would like to use with your mail. For less confusion, please keep both selected, unless otherwise instructed or desired. Select "Done" and you will be prompted to your "Account" screen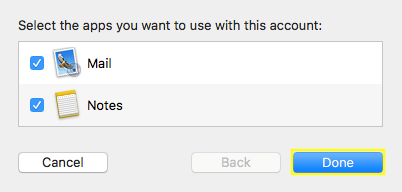 8. Next, you will be brought back to your account settings. Please select the tab 'Server Settings' to continue your set up.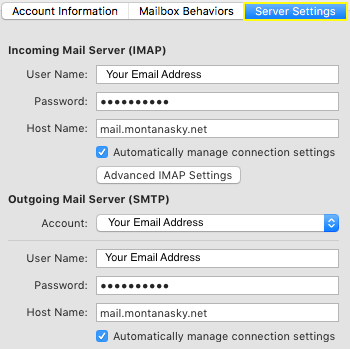 9. On this tab, we will first concentrate on 'Incoming Mail Server'. Notice where it says, 'Automatically manage connection settings'. Please uncheck that blue check mark to produce a way to manually manage connection settings.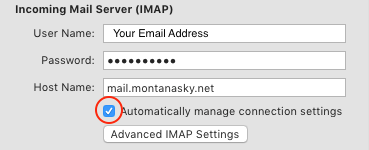 Clicking the blue check mark off will open connection settings.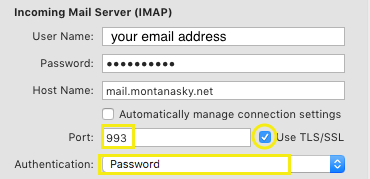 10. Highlighted above, here are the settings you will need to select. Your Incoming mail server port will be 993. We will want to choose 'Use TLS/SSL' for security purposes. In Authentication, please use the drop-down arrows over on the right to select 'password' as your authentication method.
11. Now, focus your attention on the Outgoing Mail Server, unchecking that same blue check mark next to 'Automatically manage connection settings.'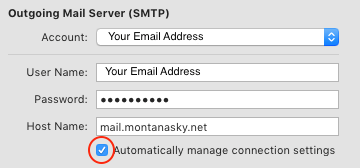 12. You will now do the same as you did with the incoming, however, your port will be 465. You will want to check the box for 'Use TLS/SSL' and you will want to set your authentication to 'password'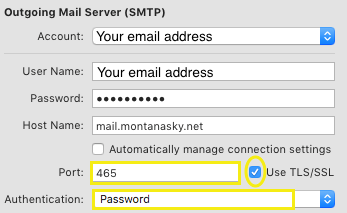 13. After this, please hit 'Save' at the bottom of the page.

14. Now, you should be able to start receiving emails. If you would, please try to send a test email to yourself or you can send one to testmyemail@montanasky.net

.