Sky Connect Wireless Support
Buffering? Better Streaming Tips!
http://selfhelp.montanasky.net/index.cfm?inc=page&go=8F034A2F-D41B-9D6B-E4ACFA833E733DC9
UNMS Cube Wifi Router and POE Injector Connection Chart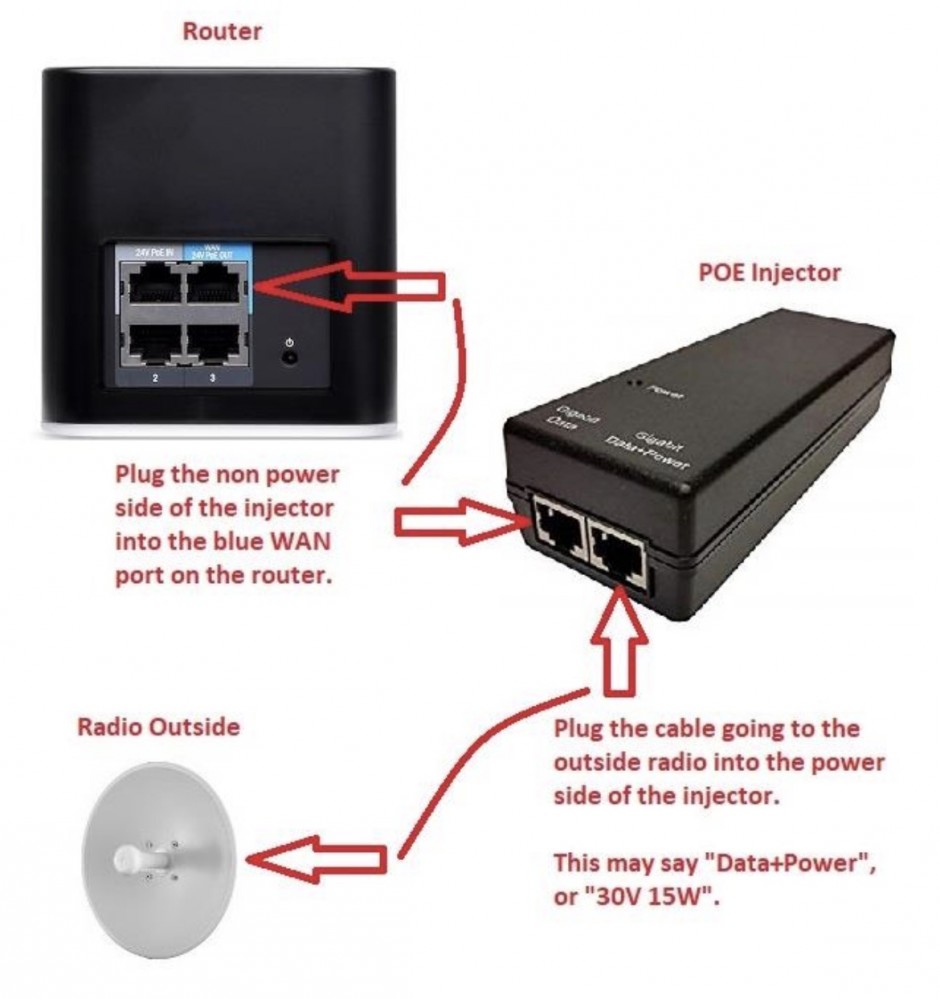 SkyConnect Cambium Router Troubleshooting
Proper REBOOT Instructions for CM Pilot Sky Connect Router:
NOTE: IT CAN TAKE UP TO TEN MINUTES TO REBOOT SO DO NOT TURN
THE ROUTER OFF AND ON MANY TIMES IN A ROW QUICKLY!
1. Assure router is connected properly to start with. (see photos)
2. Unplug POWER Cord completely from DC Jack.
3. Wait at least 2 full minutes.
4. Plug back in; confirm POWER light on front is on SOLID.
5. Wait 2 full minutes or until the WAN light is blinking steady.
6. When the WAN light is blinking steady connection should be up.
7. If this fails, try repeating but waiting 3 minutes each.
NEVER PUSH THE HIDDEN RESET BUTTON.
If all fails, reboot your devices. If that fails, contact SUPPORT
406-752-4335 (leave message for on call tech) or
email support@montanasky.net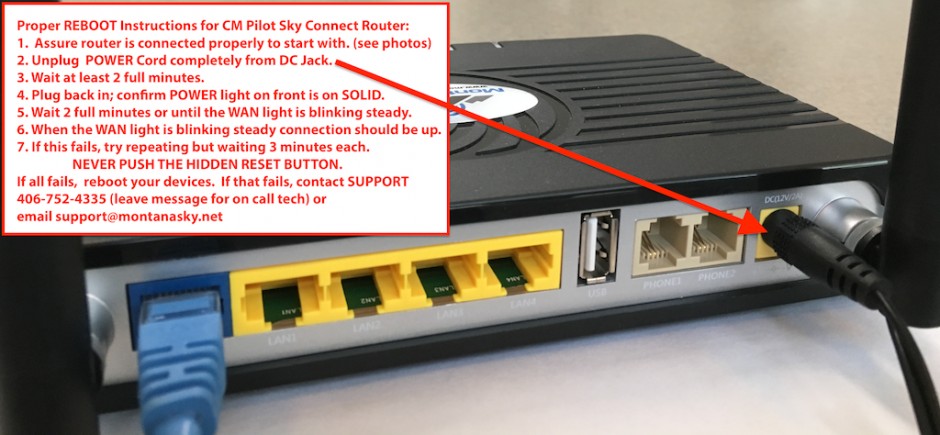 Front Panel Basics:

Power light must be ON.

WAN light blinking steady indicates proper connection to the radio dish.

(you should be connected)

.

NEVER PUSH THE RESET BUTTON! If you do, you will need to return the router to the office.

LAN lights indicate proper connection to wired devices connected to ports 1 thru 4.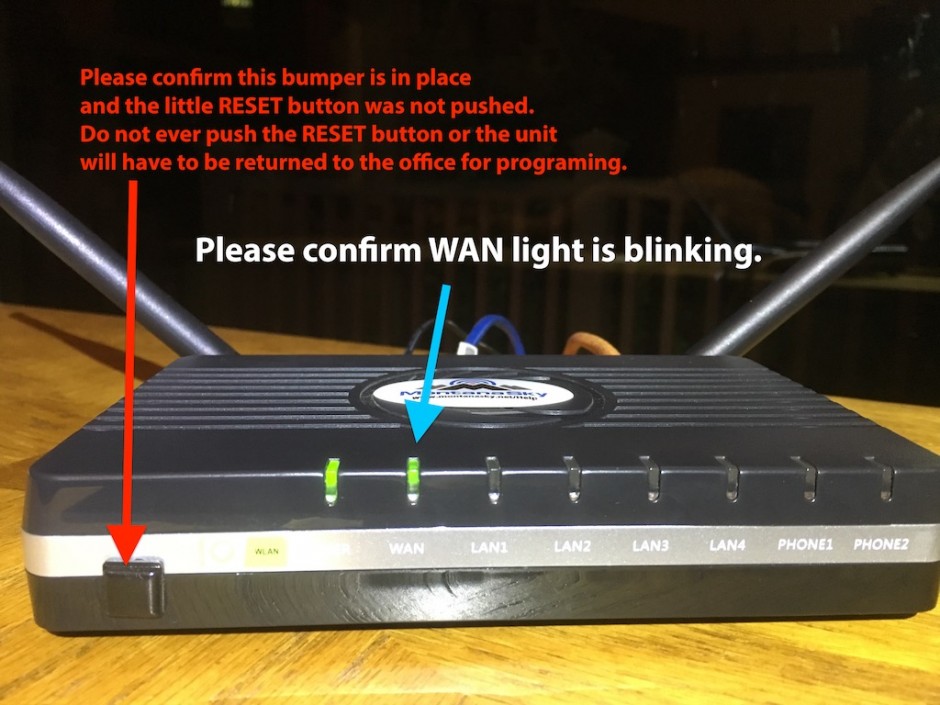 ---
Rear Connection Basics:

Connection from the radio must be in the WAN port.
WAN port may be marked POE (Power over Ethernet) which supplies the power to the radio dish.

WAN port Ethernet runs to the radio dish and is installed by MontanaSky Techs only. You can visually confirm the wire to the radio is on the LEFT side facing the front smooth side of the radio dish.

A blinking WAN light on the front panel confirms this connection.


NEVER PUSH THE

RESET

BUTTON! If you do, you will need to return the router to the office.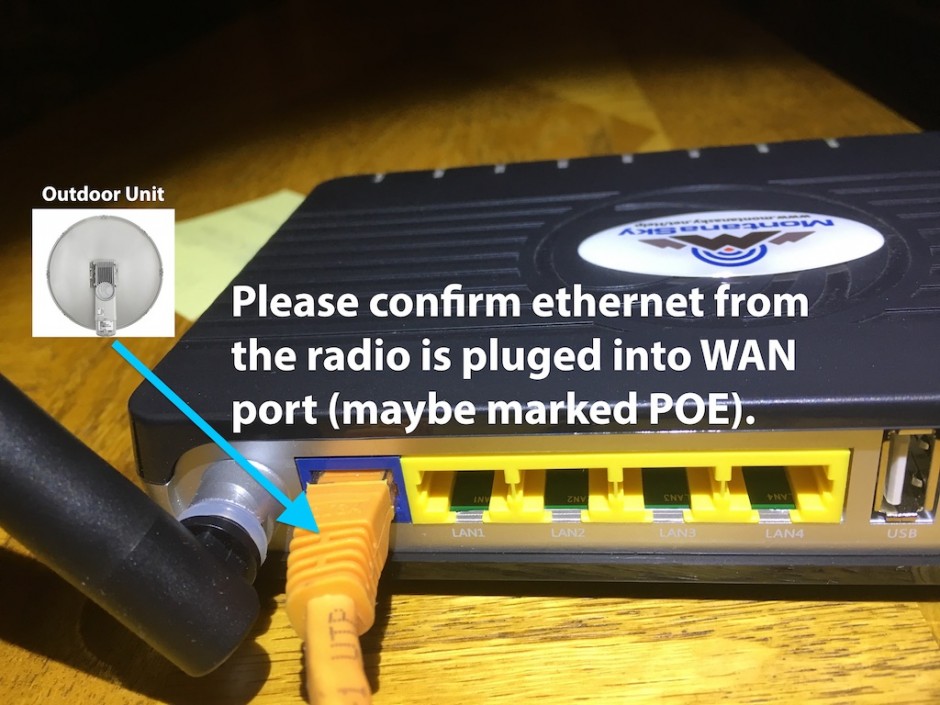 ---
OUTSIDE RADIO DISH BASICS:
Dish must be pointed at the radio tower, clear of any obstructions, including leaves, vegetation, bird nests, snow or ice.

Facing the smooth front of the dish radio, the cord should be coming out the left side and run to the WAN port on the back of the router. A blinking WAN light indicates proper connection.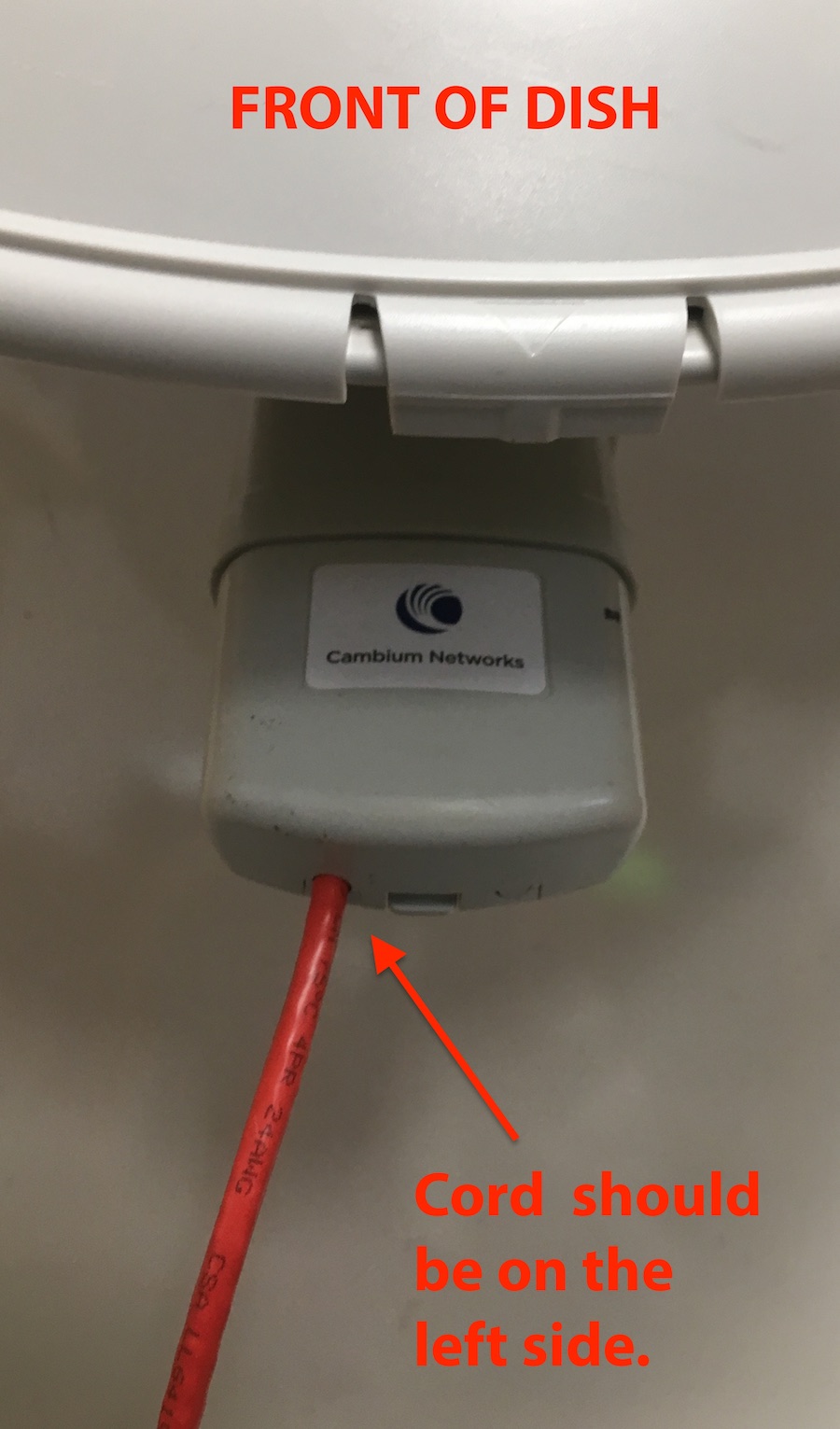 .